Herramientas
Apoyo al desarrollo de políticas y procesos de sostenibilidad en la edificación y la construcción
Cooperación Sur-Sur y triangular
Desarrollo de capacidades y competencias tecnológicas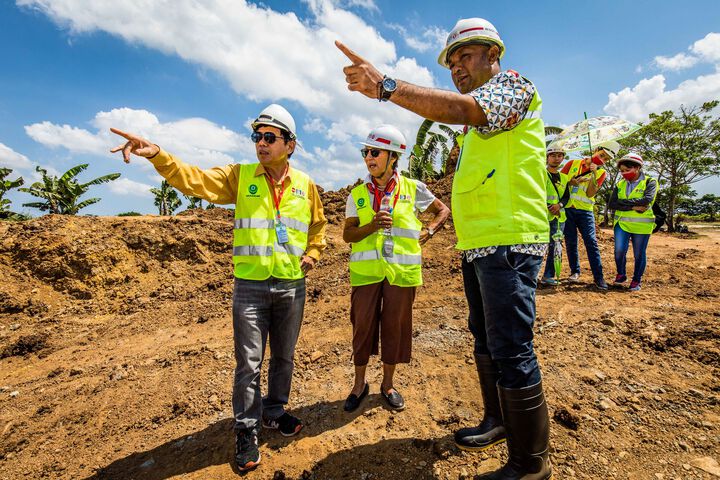 1. DESCRIPTION OF TECHNICAL OFFER:
PUM has experts with robust field experience and practical knowledge, who can provide support to SMEs in the building, installation and real-estate industry. Advise focuses on developing business strategies and policies to reach a higher level of sustainable performance.
PUM architects can offer advise on sustainable and climate proof buildings; on sustainable climate proof areas and cities through PUM landscape and city planners; and on using materials and products which will produce no or less waste or loss of energy through PUM builders and experts in the supplying industry.
A focus area is the production and use of "sustainable concrete"; having knowledge on quality and safety systems and their implementation; organizing building processes which guarantee in time deliveries of the rights volumes; and with know-how on monitoring systems and their implementation. This will help SMEs to achieve a higher level of performance and profitability.
We support the transformation from on-site production to the use of prefabricated building components and systems in order to reach a higher and more predictable quality level.
In most of the above-mentioned topics, PUM provides trainings and instruction either on-site or on-line by means of a seminar.

2. TARGET AUDIENCE:

Small and medium enterprises in the building and real estate business.
Decision makers in all commercial and public sectors interested in housing, buildings and infrastructure.

3. IMPLEMENTATION PERIOD:
On site advice by an expert covers a 2-week period.
Remote advice covers a period of 6 to 8 weeks.


4. MODALITIES:

5. MEANS OF COOPERATION:
Advisory services on location by experts from the specific sector/field
Remote advice, one on one or through webinars
Exchange of knowledge and experience
(Vocational) Training through workshops, courses, seminars & webinars
Trade Promotion through Business Links in the Netherlands



6. PREVIOUS EXPERIENCE AND ACHIEVEMENTS AS OFFEROR:
Over the past 40 years, PUM has made a positive impact on more than 45.000 small and medium-sized companies in developing countries and emerging markets. Read our success stories to find out more; https://www.pum.nl/en.
Over 50% of clients supported by PUM experts in the Building sector have stated that they achieved a higher turnover and profit.
Previous experiences:
o For an architectural firm in Colombia, which had developed a sustainable modular housing concept, our expert assessed the feasibility to export the concept to the USA and/or Europe. Design requirements for other climate conditions have been worked out.
o Developer/builder in the Philippines received advise from PUM expert/architect on the integration of sustainability requirements in his design and design methods of an apartment building/office block. First plans have been evaluated and adjusted.
o A brick-producing company in Colombia had to deal with legislation on the use of a minimum percentage of recycled building waste in new building materials. Our expert assessed the production process and the possibilities of the use of building waste.
o In Vietnam, a producer of prefab concrete asked for support in developing a quality system in order to produce with less waste and supplying products with higher accuracy and narrower tolerances to accelerate the installation of prefab systems.

This tool is part of the UNIDO´ s Indutrial Knowledge Bank (IKB). The IKB is a tripartite mechanism of South-South and triangular cooperation, established to promote the exchange of knowledge and expertise on industrial development in the countries of Latin America and the Caribbean. The analogy to a bank is based on the fact that knowledge (e.g., technical expertise) can be seen as a currency that is exchanged among actors, such as donors and recipients.
In order to apply as a recipient entity to UNIDO´s technical cooperation tripartite mechanism and benefit from this tool, please contact [email protected] .